The #3 Rated Athlete's Foot Product: Healing Natural Oils
Healing Natural Oils - #3
Athlete's Foot Product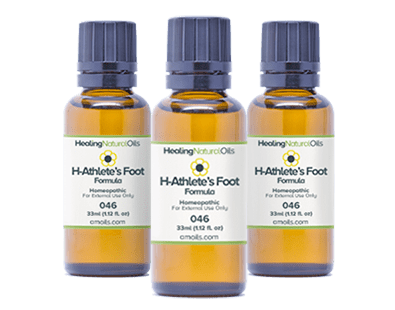 H-Athlete's Foot Formula is an alternative medical treatment for athlete's foot. As a 100% natural product, according to the manufacturer, this product aims to treat symptoms of athlete's foot safely and effectively.
EDITOR'S RATING
31 User Reviews
Introduction
This article reviews H-Athlete's Foot Formula from a company called Healing Natural Oils. This oil is an alternative treatment for athlete's foot. As a 100% natural product, according to the manufacturer this product aims to treat symptoms of athlete's foot safely and effectively. As you read on you will have a better understanding regarding what this product is and if it is the right product for you and for treating your athlete's foot.
Ingredients
This product has both active and inactive ingredients.
Inactive ingredients:
Essential Oils Blend

Pelargonium graveolens
Melaleuca alternifolia
Lavandula officinalis
Cymbopogon flexuosus
Active Ingredients: The homeopathic ingredients in this formula are manufactured under the specifications of the Homeopathic Pharmacopoeia of the United States (HPUS). These ingredients include:
Thuja occidentalis 12C
Lycopodium clavatum 12C
Calendula officinalis 12C
The active ingredients do an excellent job of locally healing athlete's foot symptoms.
Dosage
Only a few drops need to be applied at a time, using a cotton swab. More detailed instructions on dosage are available with the purchase of this product.
Possible Side Effects
This manufacturer's website does not recommend this product for children below 4 years of age. Women who are nursing or pregnant should not use this product.
Price
This product costs $29.95 for the 0.37 fl oz bottle and is available at a discounted rate for the 1.1 fl oz bottle with free shipping. For the amount given, the price seems a bit steep compared with other athlete's foot products.
Guarantee
This product comes with an unconditional 90-day money back guarantee. This means that the manufacturer of H-Athlete's Foot Formula is quite sure that this product is beneficial for customers. The manufacturer's website carries several customer reviews and they are mostly positive, in that most people seem to have experienced relief after using this product.
Conclusion
First, let's look at the upsides of this product. This product seems to be a good option for those with athlete's foot as it is natural, with no additives, drugs or chemicals, therefore it treats symptoms gently. The manufacturer claims the product is fast acting and it is manufactured in facilities in the U.S.A. with superior ingredients. The FDA listing and GMP (Good Manufacturing Practices) Facility is also a positive thing for this product. In addition, the 90-day money back guarantee takes much of the guesswork away from buying this product. However, we should mention the downsides of this product. First it seems to be priced very high compared with other products that claim to treat athlete's foot. In addition, it is advised that children under 4 years of age and pregnant or nursing women not use this product. Although the manufacturer says that the product works quickly, it is not standardized and may take a different amount of time for different people. It also fails to contain an active clinically proven ingredient for fighting fungus, such as undecylenic acid, as in our #1 product.
Click here to learn about our Top Athlete's Foot Treatment Products.
Visit Healing Natural Oils Site
Jimmy Rodriguez
reviewed on and gave it a rating of
3
.