The #4 Rated Athlete's Foot Product: Forces of Nature
Forces of Nature - #4
Athlete's Foot Product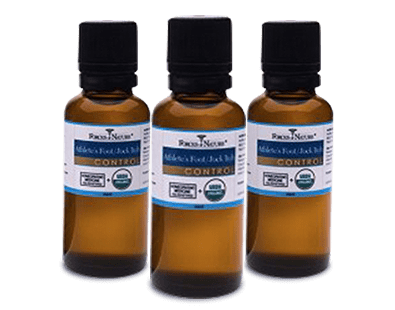 This Forces of Nature product claims to be a natural solution for Athlete's Foot as well as Jock Itch Control.
EDITOR'S RATING
25 User Reviews
Introduction
This article is a review of the 1.1 fl oz Athlete's Foot/ Jock Itch Control by Forces of Nature. This product claims to be a natural solution for athlete's foot as well as jock itch control. It targets the fungal infection that is the cause of both these ailments. As you read on, you will find out more about this product as well as our opinion on it.
Ingredients
This product contains the following ingredients:
Inactive ingredients
Australian Melaleuca
Eugenia Caryophyllata Oil
Madagascar Pelargonium Graveolens Oil
Active Ingredients
Thuja Occidentalis 30C
Silica 8X
Hydrocotyle Asiatica 30C
All the ingredients, active and inactive are certified organic.
Dosage
The recommended dosage is three times a day or as per a doctor's instructions. This product must be applied as a thin layer on the affected area.
Possible Side Effects
This product cannot be used for children under two years of age. This product is for external use only. In addition, if it comes into contact with the eyes, you must wash them with water immediately to neutralize the effects. Consult with your doctor if the irritation does not go away.
Price
This product costs $34.85. A 10% savings discount is offered by the manufacturer when you sign up for their email list. In addition, there are money saving offers with different package purchases. Furthermore, when you purchase other products from the same manufacturer, free shipping is an option for purchases that are more than $49 on Amazon.
Guarantee
The manufacturer guarantees fast results. However, a money-back or satisfaction guarantee is not clearly mentioned. This raises doubts about whether or not you will be able to get your money back if the product fails to work for you. There are no customer reviews of this product on Amazon, which means that this product is not tried and tested by satisfied customers.
Conclusion
This product has several benefits for people seeking relief from athlete's foot or jock itch. Athlete's Foot/Jock Itch Control from Forces of Nature claims to be both strong, safe and fast acting. Its soothing action also promotes renewed skin health and the product is FDA registered. Since it is an all natural product, many consumers will be attracted to this for long term use, as it will cause no side effects. The product claims to offer long-lasting relief and insists that it is superior to home remedies for treatment. It's dual action benefits to treat athlete's foot and jock itch make it very useful for people who may be suffering from both ailments.
On the other hand, this product has some downsides too. Although the ingredients are all natural, we felt that it was missing active fungal fighting ingredients proven clinically effective in studies, as are included in the ingredients lists in our top products. Furthermore, some individuals may experience allergic reactions to some of the ingredients in this product, which we felt was a negative point. Plus, to save any real money when purchasing this product you must sign up to their email list in order to receive a coupon code, which could lead to all sorts of spam emails.
Click here to learn about our Top Athlete's Foot Treatment Products.
Jimmy Rodriguez
reviewed on and gave it a rating of
3
.